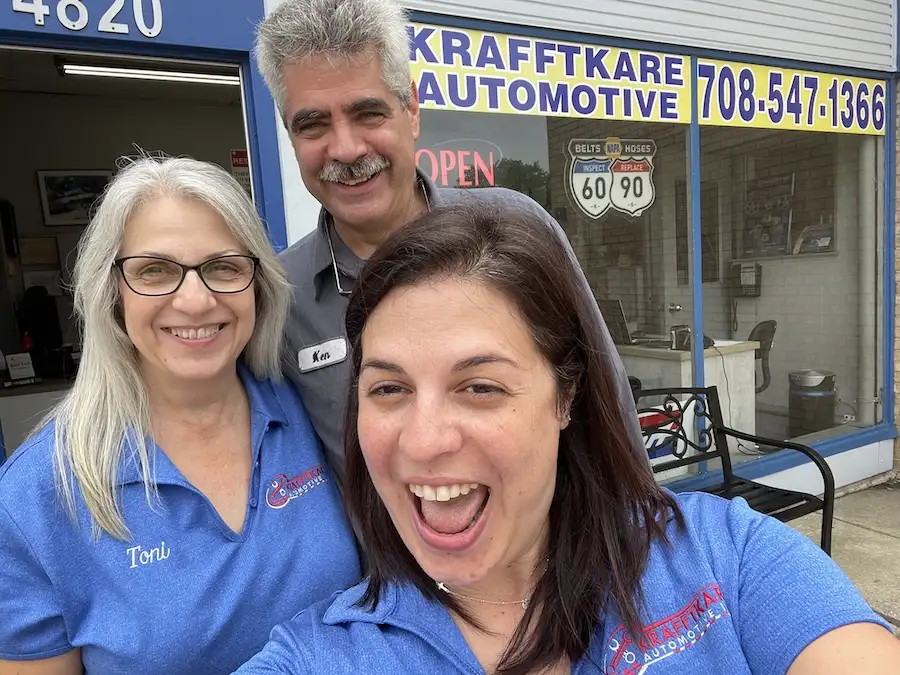 Do you have a passion for working on cars? Do you love taking things apart and putting them back together? Are you interested in working at a long-time family owned business that is well known in the community, with a great working atmosphere? Do you like learning? Do you love having weekends off?
Did you answer yes to any of these questions? You may be a great fit for the growing Krafftkare Automotive team!
Look at us, don't we look like a great group to work with?! We look forward to hearing from you! ------------------------>
So, why work at Krafftkare?
We've been a part of the community for 30 years! Yes, you read that right - 30 years, and we plan to stick around for another 30!

are a true family run operation - our family owns it and works in it plus our team is also our family!

believe in developing relationships with our customers and providing honest service - our main goal is to keep our customer's vehicles safe and reliable on the road!
believe in work/life balance - that means weekends off, your birthday off, paid vacation and holidays!
We work as a team - we are more successful together!
We want to help you plan for your future - we provide continuous training, help you work toward ASE certifications, work with you on your goals in the industry and provide a retirement plan with company match!
We pay for uniforms, provide a positive work environment and much more!
There are a few things we want you to have including some tools, a current and valid driver's license with a good driving record, some computer skills, the ability to keep your work area clean and a strong work ethic! General responsibilities include vehicle safety inspections and providing quality vehicle maintenance, diagnostics and repair including but not limited to general maintenance, brakes, tires, suspension, steering, batteries, heating and A/C, drivability, failed emissions and electrical repair.
Want to apply? Fill out the information below or send your resume to
[email protected]
!
Have questions? Call us at (708) 547-1366 or email us at
[email protected]
!